03. Dec 2020 9.00 - 10.00

Webinar
Online
View in Google Maps
Deltagelse er gratis.

Connected Leadership
We invite you to an EGN Global Webinar on December 3rd at 9.00 CET (60 minutes webinar followed by a facilitated network session with EGN members from around the world).
Meet Heather Hansen, Global Communication Specialist, TEDx Speaker, Author. Founder of Global Speech Academy, Singapore.
Not a member? Sign up via this LINK.
Long before Covid-19, in the late 1800s, the term "social distance" was coined by sociologists to refer to the emotional or cognitive distance within groups of people. If people feel connected to the group, it thrives. If they do not feel included, are allowed to hide outside the group, or are disengaged, the group falls apart. The key to success in dispersed teams (especially those going through crisis or change) is to minimize social distance and increase feelings of belonging, acceptance, and connection in the group. This requires a more personal and connected form of leadership that focuses on close communication and inclusion.
Over the past 8 months of global lockdowns and working from home, Singapore-based Global Communication Specialist Heather Hansen has been discussing these topics with teams based everywhere from Europe to New Zealand to discover best practices and write the new rules of online communication.

In this fascinating, interactive presentation, she will share:
Why real social distance is so dangerous for dispersed teams
The ways leadership DNA is changing to focus on vulnerability and personal connection
How the Harvard-developed SPLIT framework can help you to identify and decrease social distance
Specific ways global companies are adjusting their communication culture and processes to increase connection within teams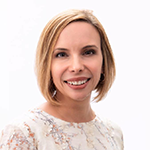 Heather Hansen
Global Communication Specialist, TEDx Speaker, Author
Founder of Global Speech Academy, Singapore
Heather is on a mission to inspire global voices to speak with clarity and confidence and share their ideas with the world. Her high-energy talks and training courses on language, communication, and people skills have encouraged leaders across four continents to improve their communication skills and professional relationships. Her consulting, training and coaching services help companies build connected, collaborative and inclusive global teams through clear, confident and effective communication.
Times adjusted for timezones:
9.00-10.00 AM Central European Time (CET)
10.00-11.00 AM Helsinki time
3.00-4.00 PM Bangkok time
4.00-5.00 PM Hong Kong/Singapore time
7.00-8.00 PM Sydney time
9.00-10.00 PM New Zealand time
Sign-up details
For EGN members: go to Members' Universe. You will find the webinar in the calendar. You can invite non-member guests as well – they should sign up via the link below.
Not a member? Sign up via this LINK.